<< Previous in Series: "Absolute Future and Absolute Past"
A brief note to my recent visitors: If you've arrived here from sites with highly misleading blurbs and expect to find a discussion of how faster-than-light travel is possible, I'm afraid you will be disappointed. This article outlines an argument commonly accepted by physicists which demonstrates that in special relativity faster-than-light travel is not possible.
(This article forms a companion piece of sorts to the first half of the section on Special Relativity in my Very Brief History of Time, so it might make more sense if you read that first. If that doesn't make sense, try reading the earlier parts too!)
---
One of the most striking aspects of special relativity is that faster than light travel is equivalent to time travel. This is also one of the most widely understood aspects of the theory, and almost every explanation I've seen of the effects of superluminal travel on causality has been badly garbled. In this article, I will try to explain it more clearly.
The paths of light rays in a special relativistic spacetime (a so-called Minkowski spacetime) act like a causal grain running through the spacetime. The outgoing light rays from an event form a surface in spacetime called the event's future light cone. The light rays converging on an event form a surface called the event's past light cone. For any event P (where P is a label for something happening at a given place at a given time), the events within P's future light cone make up its absolute future and those within its past light cone make up its absolute past: the former are the events that P can influence and the latter are the events that can influence P. Unlike the situation in classical mechanics, there are also events outside both light cones of P that can neither influence nor be influenced by P (at least in the absence of faster than light travel or communication). These concepts are summarised in figure 1 (where, as usual in such spacetime diagrams, I've suppressed two spatial dimensions):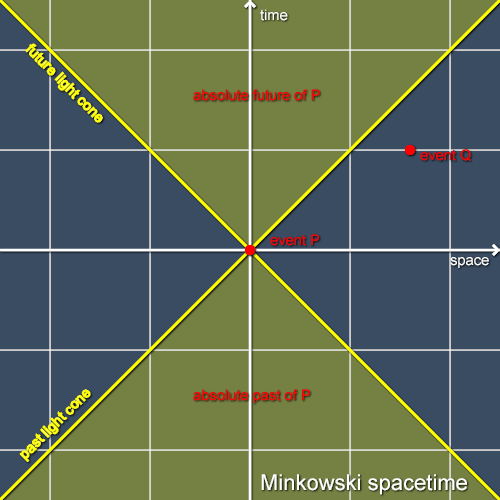 To understand this causal structure a little better, we'll have to look more closely at how different observers see spacetime. In the following, we'll be exclusively concerned with observers at rest in inertial frames, which are collections of coordinate systems moving at uniform velocity with respect to one another. Special relativity is founded on two postulates (and a lot of experimental evidence supporting its conclusions, of course):
The laws of physics look the same to all observers in inertial reference frames. This is the "Principle of Relativity" that lets us perform calculations relative to any inertial frame we like and be assured that we will get the same values for all physically meaningful quantities. This postulate holds in classical mechanics too.
The speed of light is the same in all directions in all inertial frames. It is this postulate that gives rise to all the strange consequences of special relativity, including those discussed here.
The constancy of the speed of light in all frames means that different observers must slice spacetime into space and time in different ways. This is quite unlike the situation in classical mechanics, in which everyone can agree on what is space and what is time. In particular, from the point of view of a stationary observer, an observer moving at constant velocity has a coordinate frame whose space and time axes are "tilted" towards the light cone. By the relativity postulate, this situation must be symmetric - the second observer will consider herself stationary and the first observer's frame "tilted". From this sort of reasoning and a little bit of mathematical sophistication, we can cook up a recipe for translating the coordinates assigned to events between inertial frames. Each such translation is known as a Lorentz transformation. Let's look at one more closely: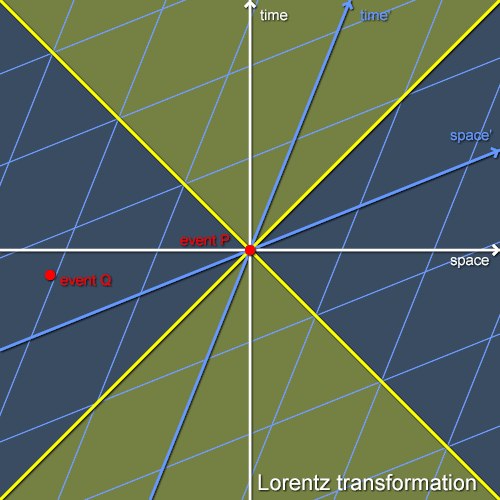 In this diagram, we can see the seeds of our strategy for violating causality using faster than light signals. Looking at events P and Q, we see that P occurs after Q according to the observer in the white frame, but to the observer in the blue frame P happens first. This situation is enshrined in the lore of relativity under the name "relativity of simultaneity", because different observers will have different ideas about which events take place simultaneously. For events within the light cones, though, all observers agree on temporal ordering. It's not possible to tilt the coordinate frame enough to make events in P's absolute future appear to be in P's past. That's why it's called the absolute future in the first place!
All of the foregoing may be quite odd to those unfamiliar with relativity, but all will be well for causality provided that there are no superluminal causal influences. If we have faster than light effects then it's rather easy to make paradoxical causality violations. For the sake of concreteness, I'll consider a pair of "ansibles" - superluminal transmitters whose signals are received simultaneously with their transmission when both the transmitter and receiver share an inertial frame. The same sort of argument applies to faster than light effects that are not instantaneous, and to signals carried by faster than light spacecraft. I've just chosen this case because it makes the diagrams easier to draw and easier to understand. Let's look at a single use of our ansible: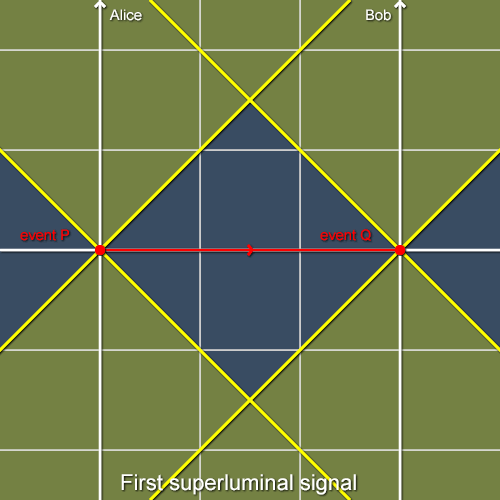 By itself, this single use of the ansible doesn't create a causality violation. If Bob transmits a signal back towards Alice using a conventional light-speed transmitter, she receives it a later time than when she signalled to Bob. Even if Bob re-transmits with his ansible, Alice receives the reply just a little after she sent out her signal. The problems arise when we bring another inertial frame into play. Let's suppose that we have another pair of inertial observers, Carol and Dave, who are moving with respect to Alice and Bob, and who have a pair of ansibles of their own. As Carol flies past Bob at event Q, Bob gives her the message from Alice and she transmits it to Dave as soon in the diagram (in which I've not drawn any coordinate grids to reduce clutter):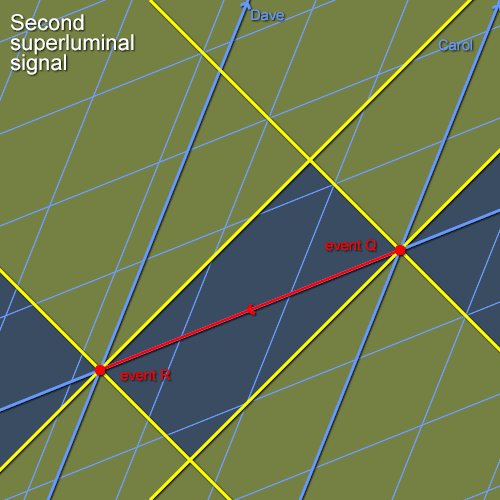 Now causality is in real trouble, as we can see if we consider the pair of transmissions (from Alice to Bob, then from Carol to Dave):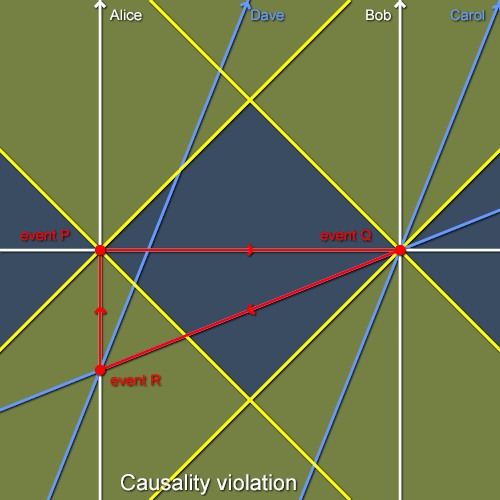 Notice that we've arranged for Dave to receive the signal from Carol as he's flying past Alice. Notice too that he receives it before Alice has sent her first signal! This means that Alice can transmit information into her own past by way of Bob, Carol, Dave, some spaceships, and two pairs of ansibles. And that's why faster than light travel or communication, special relativity and causality cannot coexist.